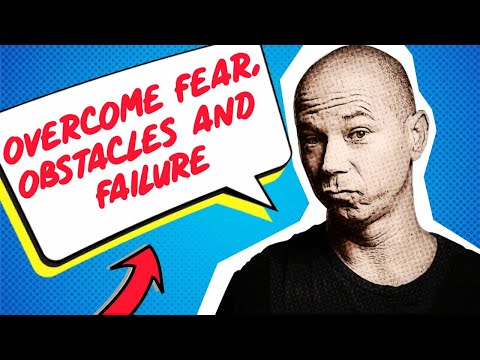 How do you overcome fear and failure?
FEAR is nothing more than an acronym False Evidence Appearing Real (credit to Zig Ziglar for teaching that principle)
Do you ever find that voice of doubt inside of you saying: "What if it doesn't work?"
You can change the context of that voice… You can adapt, innovate, disrupt, and interrupt that message with "What if it DOES work?"
From what if it can't work? to What if it could work?
Where you'll be in 5 years will be determined by your ability to conquer or set aside the fear to look at it for what it is… it's normal to have fears, insecurities, vulnerabilities… however you can turn those into STRENGTHS.
A lesson from my mentor: "Do what you fear most, and do it twice… do it again and again, and again."
I put this practice in place and went from a shy, quiet, introvert to speaking to hundreds of thousands of people around the world…
When I was afraid of heights, I decided to jump out an airplane and what if you could set aside any fear and turn it into one of your greatest gifts? and let it go?
Here's a hint: You can't have fear and gratitude at the same time. You can't have failure and gratitude at the same time.
Failure is not failure, it's an opportunity to learn, grow, and advance. It's an opportunity to go from one level to another. Failure is learning or as I've heard Dan Sullivan, co-founder, Strategic Coach, suggest: "It's extreme market research…"
To transform from fear to confidence, from fear to clarity, from fear to capable is GRATITUDE.
Identify what you're grateful for, what you're happy about, and what you've done well, and in time you'll realize your dreams can come true.
You deserve it. Now is your time. Do something BIG today!
===================
ABOUT DAN KUSCHELL:
===================
Dan Kuschell is a success driven business growth hacker, strategist and expert, a media contributor, and thought leader. He helps entrepreneurs, leaders, and business owners reduce complexity by integrating the flow of elegant ideas, execution, and team-culture for greater clarity, confidence, and direction. Dan has been recognized worldwide for creating results with his resources, books, and strategies.
Brian Tracy, founder of Brian Tracy International on Dan's work: "…Full of time tested proven strategies you can use immediately to get better results… "
Mark Victor Hansen, Co-Author, Chicken Soup for the Soul, MarkVictorHansen.com on Dan's work: "…His ideas are shared in a simple, practical way that will have you believing in your dreams again and give you the steps to take action and produce massive results in your life…"
Meet Dan at http://www.DanKuschell.com
======================
SUBSCRIBE ON YOUTUBE
======================
Get more access to Dan's wisdom here: http://www.youtube.com/ChampionVision